When it comes to marketing your legal practice, there are a number of tools available at your disposal. These range from monthly newsletters, to attending networking events, to paid advertising. Some of these, we would argue, are less effective than others.
For instance, while plastering an oversize image of your face on a bus bench is an effective way to get seen, it does little to elevate your firm in the minds of potential clients. Other tactics however, such as video, can be highly beneficial.
As statistics show, video is an incredibly popular method of delivering a message, and the technology is only expected to grow. Video is also a method uniquely suited to attorneys wishing to raise their digital profile, build trust with visitors to their website, and attract more clients.
Keep reading to learn about some of the reasons why video is so effective for law firms, as well as where the technology is headed. If you have questions about producing your own video to be featured on your website, we can help. Call our office to learn more.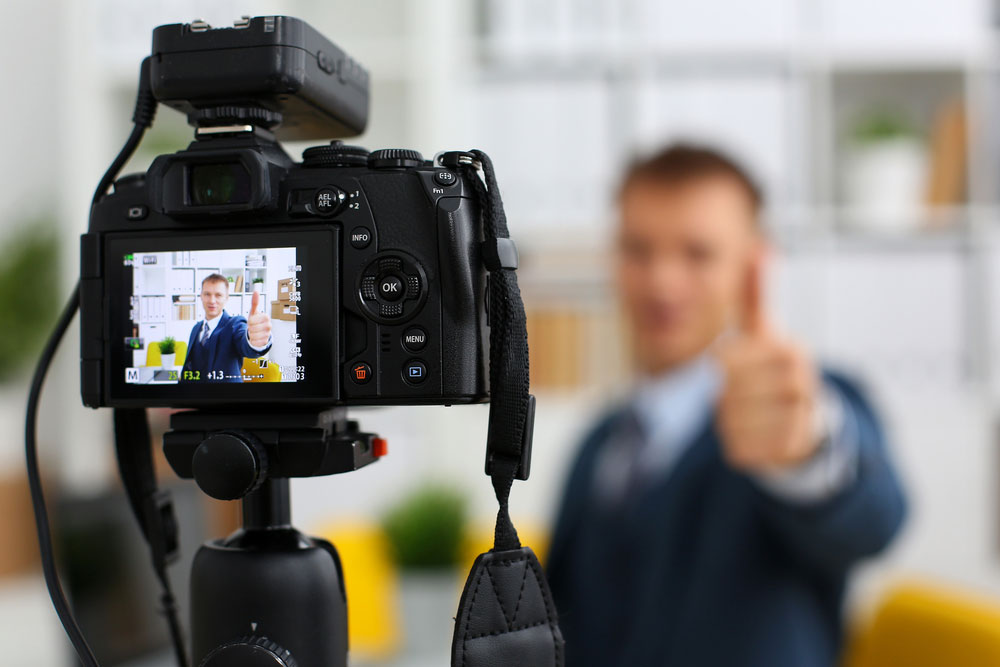 Statistics Show Video Marketing is on the Rise, Worth the Effort
A recent survey conducted by Wyzowl found that video marketing is as popular as ever with businesses. Eighty-five percent of those surveyed said they regard video marketing as an important part of their marketing strategy, while 78 percent reported a good return on video investment.
Meanwhile, Silicon Valley tech giant Cisco has projected that more than 80 percent of all internet traffic will be video by 2021. Currently, more video content is uploaded to the internet in 30 days, than the major US televisions have created in 30 years.
Put simply, video is a widely used marketing tool because it works. Most consumers would rather watch a video explanation than read lengthy product description. The law is dry, and can be difficult to explain to people in a way that's relatable. While a long blog post on your website can adequately explain why you're an expert in a given area, you have better chance of keeping a potential client's attention with a well-produced video clip.
If done right, the payoff of a video can be high.
Video Complements Your Website, Raises Your Virtual Profile
If you're already using a website to advertise your practice, you're more than likely aware of basic SEO practices. What you might not know however, is that your site isn't fully optimized if it isn't making use of embedded video.
Remember, Google and other search engines are increasingly ranking websites with video higher than sites without video. According to Moovly.com, a site with embedded video is 53 times more likely to show up on the first page of Google, a fact that may or may not have to do with Google's purchase of video giant YouTube.
In addition to ranking, video brings other benefits as well. According to Wistia, video can lead to an increase in the amount of time that visitors spend on a company's website. Wistia's research showed that people spent 2.6 times longer on websites with video as opposed to those without. The amount of time visitors spend on a particular website ultimately has an effect on a site's ranking.
Video Increases Trust
The legal profession, whether fairly or unfairly, struggles with perceived trust issues. According to a recent Princeton University study, lawyers, while viewed as competent, are also viewed as lacking warmth — a characteristic associated with trust. The study's authors put it this way:
"Being seen as competent but cold might not seem problematic until one recalls that communicator credibility requires not just status and expertise (competence) but also trustworthiness (warmth)."
The authors further noted that people report feeling a mix of emotions toward attorneys including admiration and resentment.
While there's probably no way to completely change such entrenched public perceptions, these perceptions can be combatted. Video can help due to its inherent transparency. It's a person, not some text on a page.
A good video gives the attorney the opportunity to discuss his or her services in a conversational tone. You're a trustworthy person to begin with. Video gives you an opportunity to show that to potential clients. As this article in AdAge points out:
"Video ads generate far more emotional cues than a photo can, with the ability to tell an extensive story and appeal to a wider range of senses."
Video is Growing (and is expected to continue growing)
We're living in a world where every nearly every teenager in American is an expert in video production. This is thanks to the rise of social media sites such as YouTube, Vine, Instagram and Facebook. As these kids bring their talents into the work force, video is sure to evolve as a marketing tool.
Now is an optimal moment for those businesses not using video to make a move in a new direction. The threshold to the video marketing world is wide. That could change in the coming years as the field becomes more crowded with visual-content producers.
Why Aren't You Using Video on Your Site?
If you're an attorney whose website still isn't making use of embedded video, now's the time to consider a change.
BAR digital media offers expertly produced video packages for attorneys practicing family, personal injury and employment law. Each package is competitively priced, and can be tailored to proudly display your firm's logo and contact information. Additionally, BAR offers custom video packages. If you have questions, contact our office for more information and to find out how we can help you.